No company sets out to have a boring, tedious, or worst, toxic environment. Yet we see and experience these workplaces all around us. Why? Because building a great workplace culture is hard! At Ushur, we don't claim to have cracked the code on how to build the best possible workplace culture, but we do have something special going on here. From intellectually stimulating research work at the bleeding edge of conversational AI to go-to-market campaigns that are focused on blitzscaling...and everything in between, Ushur is taking a decidedly unique approach to building a successful, high growth business where people are valued for not just their work, but also who they are.
🚀 Cool Projects
Did you know that Ushur recently raised $25M in Series B funding from some of the biggest names in Silicon Valley? The work we're doing isn't just for fun. It's getting noticed all over the world. At Ushur, we work with a diverse team of talented superstars. We will help you provide technical solutions as a Big Data Engineer, work to establish as well as grow our brand identity as a Graphic Designer, or keep operations running smoothly as an Office Manager. Whatever you do, you'll be doing it as part of a close-knit team doing groundbreaking work.
💪 Career Development
We take career development seriously at Ushur. That's why we offer an internship program to help give a diverse range of students a chance to start working with us. And it's why we foster a culture of learning by offering activities such as Hackathons that grant our employees fun opportunities to continue sharpening their skills. It's also why we make it a point to promote from within the company. The way we see it, no one knows what we do as well as how we do it better than our employees. Why mess with success?
💻 Plenty of Perks
At Ushur, we make it a priority to keep our employees happy, healthy, as well as excited to work for us. That's why we offer our employees the ability to work remotely. When it is safe to do so, employees also have the flexibility to work at our offices in Santa Clara or Bengaluru. All of our employees are covered by top-of-the-line health benefits as well as allowed to work flexible hours. In addition to great PTO and holiday benefits we request everyone take the last Friday of the month off for a mental health day to ensure the well-being of our employees is a priority. And our in-office employees can enjoy free snacks, drinks, and an on-site gym. Overall, we pride ourselves on maintaining a collaborative, supportive work environment. Everyone is given the tools they need to work hard as well as feel their best.
✨ Employee Satisfaction
Our employees love what they do, and they love working for Ushur. But don't just take our word for it! Read what two of our employees had to say about their experience during the hiring process at Ushur:
I recently joined Ushur as a Data Analyst Intern. And I had a super fun interview as well as an onboarding experience. Unlike other companies, I was constantly updated about what step of the recruiting process I am in and was provided with enough information to help me prepare for my interviews. - Suchit Sanghvi
The recruiting process was a very genuine and pleasant experience. I really got a great feel for the culture, belief in the product, and single vision to succeed! - Satyan Patel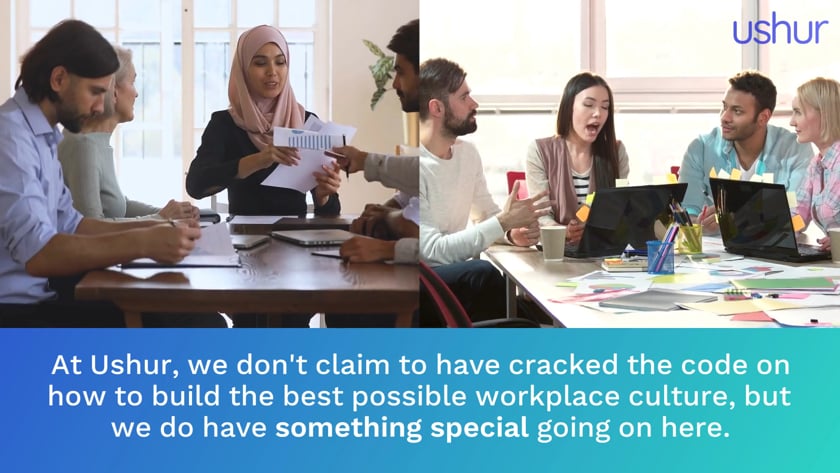 Apply to Ushur Today
There are plenty of opportunities for jobs at Ushur. We're currently looking to fill positions in the Engineering, Sales, Administration, Design, Marketing, as well as Customer Success departments. Regardless of your area of expertise, there's a place for you on the Ushur team. And we're excited to see what you bring to the table.
Are you ready to work for an up-and-coming company that's revolutionizing the way companies do business with their customers? We'd love to hear from you. Take a look at our list of open positions and feel free to contact us with any questions. We're looking forward to helping you learn more about joining the Ushur team!
About Ushur
Ushur delivers the world's first AI-powered Customer Experience Automation™ platform that has been purpose-built, from the ground up, to intelligently automate entire customer journeys, end to end. Designed to deliver delightful, hyper-personalized customer experiences through rapid issue resolution and unified, omnichannel engagement, Ushur is the first-of-its-kind system of intelligence. It combines Conversational Automation and Knowledge Work Automation in a No-Code, Cloud-native, SaaS platform to digitally transform every step of the complete enterprise customer experience – from Micro-engagements™ to entire customer journeys.
Backed by leading investors including Third Point Ventures, 8VC, Pentland Ventures, Aflac Ventures and Iron Pillar, Ushur's Customer Experience Automation™ solutions are currently in production at some of the leading insurance providers across the globe including Irish Life, Unum, Aetna, Cigna and Tower Insurance.