On August 26th, Ushur, an AI-powered automation platform, hosted its inaugural Innovation Awards ceremony, where individuals and companies were honored for their leadership in driving digital transformation initiatives in the insurance industry. Three awards went to two individuals and one company, respectively, who are "building a more compassionate world through their exemplary development and deployment of innovative AI solutions," according to Simha Sadasiva, CEO of Ushur.
Unum, the Fortune 500 global disability, life, and financial protection insurance behemoth,won the Digital Transformation Innovator award. The individual awardees were Ken Lynch, Head of Information Services at Irish Life, and Ted Reed, who spearheaded business development at Unum Group prior to his retirement.
The event, which took place virtually at InsurTech Selection Day, was also a testament to Plug and Play Tech Center, an innovation platform that pairs large global corporations with vetted startups to foster relationships and improve corporate nimbleness while granting young companies access to institutional resources. According to Saeed Amidi, Plug and Play CEO, successes like Ushur, a Plug and Play portfolio company, "are a real pride and joy for me. [...] We pride ourselves on finding great entrepreneurs, incredible technologies and ideas, and then making a positive impact on their journeys." Amidi and Simha opened the ceremony with a discussion of the companies' close relationship, the opportunities to expand digital transformation to new verticals, and the need for agility as a startup working with enterprise clients.
The awards were especially significant in the context of the Covid-19 pandemic that has tested the ability of insurers to offer their policyholders consistent and quality service. While the honorees have been pushing digital innovation in career-long strides, their work has noticeably buttressed their organizations and stakeholders during the crisis that has seen rapidly rising and sustained policy-holder demand, highly remote workforces, and the confluence of urgent, seemingly unrelated disasters.
Simha acknowledged the unusual new pressures felt by the insurance industry.
Welcome everyone to the Ushur Innovation Awards. [...] We are obviously operating in a strange time. I think it's therefore that much more important to bring people together, to recognize game-changing work."
Simha Sadasiva, Ushur
The winner of the Digital Transformation Innovator, Unum has been notable for its aggressive push towards conversational AI and workflow automations as a vector for new growth, modernization and better service. The desire for operational efficiency and enhanced member experience has been especially critical to Unum as it serves a diverse, global customer base.
Marco Forato, Unum's SVP of Corporate Strategy and Development, underscored this idea. Given the nature of Unum's products, potential customer touchpoints may be periodic, so it is incumbent on agent teams to deliver exceptional interactions.
Our customers are so much happier now because of the [Ushur solution]. Our employees enjoy their jobs a lot more as well as they don't have to play phone tag with our customers."
Marco Forato, Unum
As Simha pointed out, company-wide change at large enterprises is often a difficult, slow task, stating that "even at a startup like Ushur, every workplace tool we adopt - let's just say adjustment is a process! So for a large enterprise to make strides in a new space can only be orders of magnitude more daunting."
With a culture that rewards experimentation and leaning-in, Unum is a case study for large, deeply established enterprises on how they can nimbly pivot to keep would-be competitors at bay, while giving policyholders more flexibility and opportunity. According to Forato, the company has seen customer satisfaction metrics rise dramatically, and the success of the partnership has led to more opportunities for collaboration with Ushur.
Leveraging low-code solutions, Unum has pioneered empowering business teams to join the 'citizen developer' movement (read more). "We started with a small pilot a few years ago and now have over five applications, with more in the pipeline. [Ushur's] ability to rapidly prototype and automate customer journeys has provided us with a competitive edge, delighting our customers while allowing our employees to focus on higher-value work," Forato added in an email interview.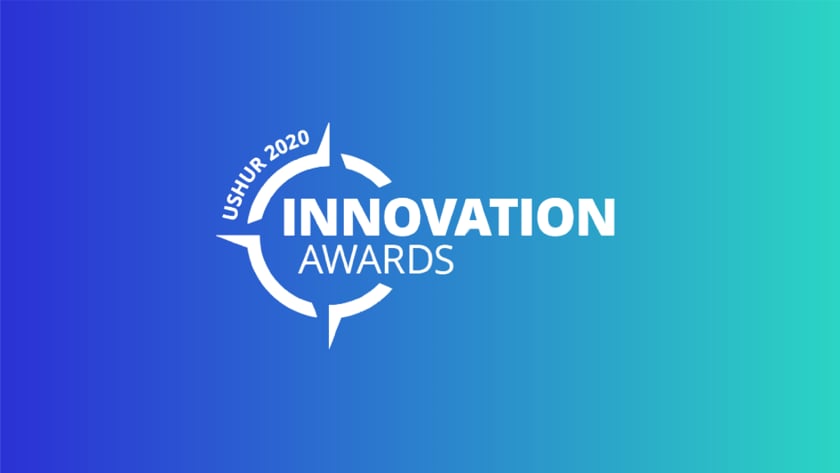 Simha highlighted that Unum was committed to working with startups despite the perceived difficulties of doing so. Forato agreed, praising the Ushur partnership and calling the company "a true partner in our digital transformation."
The first individual accolade, the Ushur Trailblazer Award, went to Ted Reed,"who embodies a lifelong commitment to championing innovation," according to Simha. Reed, an influential business development leader who played various roles over a long, celebrated career at Unum, was recognized for providing counsel to startups 'endeavouring to serve large insurers.' Reed was lauded as a bridge between the startup world and corporations like Unum, matching puzzle pieces from fundamentally different
organizations. Now retired, Reed was instrumental in championing the conversational AI and end-to-end automation solutions that Ushur builds.
Speaking from a sailboat off the Northeast coast, Reed recounted working with Ushur as a capstone to a long and impactful career driving change. "We began with a very small seed use case that we were able to turn around in literally less than a week [...] it evolved to many other solutions for intelligent automation opportunities [...] What this has taken on both parties' parts is really good listening, the ability to see latent opportunities. [...]"
There are two things that are fundamental to a sound partnership. One is that the startup partner's capabilities are unique. The second thing is the people - are they transparent, forthright, straight-shooting, honest, and good listeners? And Ushur is loaded with those characteristics."
Ted Reed, Unum
Ken Lynch won the AI Pioneer Award for his vision to apply "the power of AI to create operational excellence and drive an unparalleled customer experience at Irish Life." Lynch, who heads information services for Irish Life Corporate Business, Ireland's largest benefits company, was key in bringing AI and agile methodologies to streamline and automate many of the manual processes that had created administrative hassle and a burden on Irish Life's business teams (Read the Case Study). As the need to address member concerns in real-time grew clearer, Lynch invested in vendors and partners who would create technologies to drive down response times and improve service. Lynch has worked with Ushur for a number of years and lauded the success of the partnership.
During his acceptance speech, Lynch recounted meeting Simha at a Plug and Play event. "At Irish Life, we started to look at conversational AI technology several years ago with the aim of both improving customer experience and delivering operational efficiencies." After a 10-minute pitch from Simha on low-code and no-code AI, Lynch told Simha that he was not completely sold on Ushur's ability to deliver and could not believe the Ushur platform could perform as Simha had described.
Now, he has no doubts. "Having built the partnership over the last year, we're now interpreting, indexing, and routing all incoming email without human intervention. This means quicker service for our customers and frees up our highly trained staff to focus on strategic initiatives."
This is only the start of our plans; we really feel the biggest benefits will come when we start to use this technology to interact directly with our customers. That's something we plan to do in the coming months!'
Ken Lynch, Irish Life
If the theme of the ceremony were a celebration of technical excellence and implementation, the throughline for the winners was relationship-building. Said Simha, "Ushur could have the coolest technology, [...] but it took smart risk-takers with an appetite for discovery to get us here.[...] Aligning technologies is one thing, but selecting individuals with the same temperament and commitment to excellence is challenging, and we are lucky."
About Ushur
Ushur is the complete solution for Customer Experience Automation™. Ushur engages customers over AI-powered chatbots, email, SMS and more, using conversational AI and intuitive workflows to understand what people are saying and what to do next.
Read our case study on AI chatbots for customer service